Mission statement
At koyo giken Inc., our mission is to provide the highest quality, design, and manufacture of MYSPOT® and related machines to contribute to the development of sheet metal industry in the world. We are proud to be known as a No.1 manufacturer that works on opening up new markets and maintains the excellence of the products.
1. We provide the highest quality and quick actions. We have no compromise on meeting and exceeding our customer's requirements.
2. We bring together the wisdom to challenge innovations and improve manufacturing technology and management.
3. We appreciate meeting people. We continue to grow ourselves to treat people with honest and truthful manner.
4. At koyo giken Inc., the company provides opportunities to work and educational experiences to employees in order to be professionals in the field.
Our philosophy
koyo giken was founded in 1976 as a group of mechanical design professionals in Japan. We have provided the highest quality, design and manufacture of the table spot welder, MYSPOT® and related machines. We have sold nearly 3000 units in both Japan and 25 countries.
We have been concentrating on the following important aspects for resistant spot welding;
1. Safety (Everyone can weld easily)
2. Secure (Strong and beautiful weld result)
3. Cost reduction(Raise productivity, Cut expense)
4. Environmental friendliness(Clean air, no spark. Cut energy consumption)
In 2012, we introduced "High Speed Welding Technology". We believe that this is a revolutionary innovative technology that livens up the production site of the sheet metal industry in the world.
The thick coated materials such as AL, QS, ZAM, EZN etc, are gradually acceptable to weld by High Speed Welding Technology. We hope you enjoy this wonderful technology and machine with us.
Mitoshi Kai President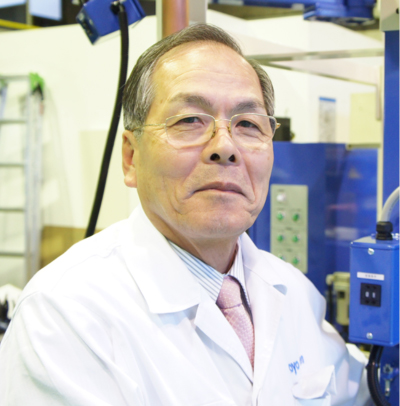 Company profile
Company name

koyo giken Inc.

Establishment

May 6th, 1976

Headquarters

2-7-6 Hashimotodai Midori-ku Sagamihara Kanagawa 252-0132 Japan

TEL +81(0)42-770-4306  FAX +81(0)42-770-4310

Factory location

Same as the above

Welding Labo

2-5-1 Hashimotodai Midori-ku Sagamihara Kanagawa 252-0132

Capital fund

20 million yen

Representatives

President Mitoshi Kai

Director Kazuyo Kai

Main Business

Manufacturing the table spot welder, MYSPOT® and the related machines and parts.

Main Customers

Nisshin Corp ・Fuji Industrial Co., Ltd ・Mori Seiki Co., Ltd ・Itoki Corporation ・Hitachi Appliances, Inc. ・AMANO corporation ・SAKAE ・Yamazaki Mazak Corporation ・OKAMURA CORPORATION・PLUS CORPORATION ・KOKUYO FURNITURE Co.,Ltd ・NITTO KOGYO CORPORATION
Company history
1976/5

Established in Sagamihara, Kanagawa prefecture dealing with the design of automobile parts and spot jigs.

1979/7

Designing and manufacturing of the jigs and the parts for general industrial machines.

1980/4

Moved to a new company building in Higashihasimoto, Sagamihara city.

1987/4

Introduced table spot welder, MYSPOT®/NK-01(Patented).

1988/4

MYSPOT® was nominated for the Kanagawa Prefectural Industrial Technology Award.

1988/5

At the International Welding Show, MYSPOT® was acclaimed in its excellence.

1996/1

Moved to Tana, Sagamihara city to combine designing department and manufacturing department.

1999/4

Introduced NK-21 HEV-810 series

2000/12

Received ISO 9001 Certification

2002/4

Developed the welding condition input system "EasySetting". Exhibited in International Welding Show.

2003/12

Renewed to ISO9001(Version 2000)

2005/9

Developed "Compact" table spot welder, NK-71H

2005/12

Established the welding technology center"Welding Labo"

2008/4

Developed Laser Spot Welder, MYSPOT®-F1. Introduced at the international Welding show.

2010/4

Chosen for "Supporting program for SME manufacturing project" and developed MYSPOT® for Alminum and thick coated materials.

2011/4

Our project theme "High speed welding technology" was chosen for the supporting program of thesophisticated infrastructural technology development(Support-industory)".

2012/4

Introduced High Speed Welding Technology at the International welding show.

2012/9

Certified as "MF eco machine".

2013/1

Introduced PEN.T NK-08 equipped with high speed welding technology.

2013/4

Developed NC high speed projection stud welding machine(MYSTUD-I).

2013/10

Awarded the Kanagawa High-Tech. Grand-Prix

2013/12

Awarded "Excellent SMEs and Micro Enterprises Selection 300" by Ministry of Economy, Trade and Industry Japan

2014/9

Awarded Grand-prix in the forntier department of the Kanagawa Promoting Industrial Development

2016/4

Awarded the 41st "Invention Achivement Award" by Japan Society for the advancement of Inventions.

2019/9

Relocated the head office to Hashimoto-dai and started the production at new factory.